Medical Malpractice
Doctors and other healthcare providers (such as nurses, pharmacists and hospitals) have a legal and ethical duty to provide acceptable medical care to their patients.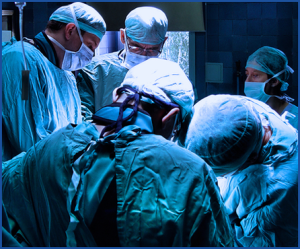 Failure to provide this level of care is negligence or what is commonly called "medical malpractice." While all of us want and expect the best possible medical care for ourselves and our families, the law in most states does not hold medical providers liable unless the care rendered by the provider falls below minimum standards. These standards are established by the medical community as a whole and are generally universal for providers across the country. These standards change as advances are made in medical care and technology. If you suffer an injury as a result of the failure of a healthcare provider to meet the minimal standard of care, then you may have a medical malpractice case.
Keep in mind that not every bad outcome during or following medical care is the result of malpractice. There are simply some medical conditions that cannot be corrected or prevented even with excellent care. Again, the issue is whether a healthcare provider failed to follow the minimum standards of care required by law which resulted in injury or death.
Medical malpractice can occur at virtually any stage of treatment. One does not have to be in the hospital or have a surgery go wrong in order to be the victim of malpractice. Here are a few examples of the types of malpractice cases that we have handled:
Failing to diagnose and treat a medical condition
Making a misdiagnosis of a medical condition
Giving the wrong medication
Giving the wrong dosage of a medication
Surgical error
Failing to recognize and treat post-surgical complications
Mismanaging chronic medical conditions
Delays in administering proper treatment
Premature discharge from the hospital
Failing to notify the patient of test results and the need for additional care
Leaving surgical clamps or sponges in the body during surgery
Failing to run necessary tests
As you can see, medical malpractice can occur in many different settings and can come in many different forms.
Medical malpractice cases are among the most difficult for an attorney to handle. Studies show that patients will only win approximately 27% of malpractice cases that go to trial in front of a jury. For those who do win, the median jury damage award is only $254,000. These awards are then often vacated or reduced at the appeals stage.
The partners of HSSH have combined experience of nearly 70 years in handling medical malpractice cases. Our experience includes pursuit of medical malpractice claims not only to settlement, but also through trial and appeal. At any given time, medical malpractice claims will typically make up at least 60% of our active case load.
We have invested considerable time and effort in developing the tools and resources necessary to effectively handle medical malpractice cases. Our firm has staff that gathers the medical records along with an attorney, conducts an initial review of those records. We then retain qualified medical experts to review each case. Most of our experts are doctors who, in addition to having a private practice, either teach in prestigious medical schools or author textbooks used in medical schools or both. In addition we have a significant "war chest" which allows us to dedicate the necessary financial resources to pursue what are often very expensive claims.
Our reputation for effectively handling medical malpractice claims continues to grow in Texas, Colorado, and Oklahoma. There are several Amarillo Attorneys who routinely refer us these cases because they trust our abilities and believe we will provide their clients with effective representation. We have even received referrals from some of the defense lawyers who we have tried cases against in the past and we consider that an excellent comment on our abilities.
Finally, we take very seriously the devastating effect that these claims have on our clients' lives. Serious permanent injury or the death of a loved one create physical, emotional, and economic hardships that our clients live with everyday. Many times when clients come to us, it is just as important for them to know how and why the loss occurred as it is for them to be compensated for their loss.
They also want to pursue their claim with the hope that the responsible healthcare provider will be more careful the next time they treat a patient. For those reasons, providing answers to our clients and making their voices heard are just as important to us as recovering financial compensation them and their loved ones.
If you or a loved one has suffered serious injury or wrongful death as a result of medical malpractice and you would like to discuss your case with us please call us at 800-753-5359 or 806-376-8903 (Texas office) or 303-333-2200 (Colorado office) or contact us.
To learn more about medical malpractice contact us at 800-753-8903 or click the link below to request a copy of: "HOW TO RECOGNIZE MALPRACTICE"
Find out why most medical malpractice victims never recover for their injuries and what you can do to help your chances of recovery.