Products Liability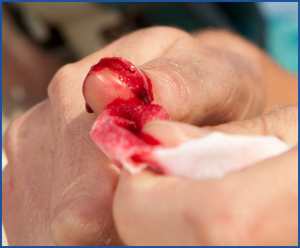 Potentially dangerous products are everywhere. From the automobiles we drive to the coffee maker in our kitchen. From the chairs we sit in to the aspirin we take for headaches. We have become, to a large extent, completely reliant upon product safety. We have a right to expect that our seat belts will work and that a tire hasn't been defectively manufactured so that it does not blow out at sixty miles an hour on the highway. We have a right to expect that our brakes will safely stop us at an intersection. We have a right to expect that guards on industrial machines work properly and that our coffee maker will not catch fire at night because of faulty circuitry. That is the basis of product liability law: things should work like they're supposed to and be reasonably safe when used.
Defective products come in two forms. The first involves a design defect in the product itself making it unreasonably dangerous for its intended purpose. For example, imagine a safety belt in a car that is designed in a way that still allows a vehicle occupant to strike the dash in a collision. The other form of defect involves a product whose basic design is acceptable but the finished product contains an unintended error or flaw that makes the final product unreasonably dangerous. For example, imagine that the safety belt is properly designed but due to a casting flaw in the metal of the buckle, it breaks during a collision.
When making a claim that the design itself is defective, we must be able to prove that the manufacturer had an affordable option to incorporate a safe design and that their failure to incorporate the safe design rendered their finished product dangerous for its intended use. When making a claim that a manufacturing error or defect caused serious injury, we must be able to prove that the condition causing the product to be defective was preventable and unintended.
A wide variety of products we use today are very sophisticated and may be very dangerous if they do not incorporate the latest safety technology. Very often, only highly qualified experts can determine whether the product causing your injury is defective. We have access to the necessary experts to prove these cases.
HSSH has experienced defective products attorneys and would be happy to discuss your claim with you. The consultation is free and if we do not make a recovery on your behalf, you owe us nothing.
Just call 800-753-5359 or 806-376-8903 (Texas office) or 303-333-2200 (Colorado office) or contact us.