Motorcycle Accidents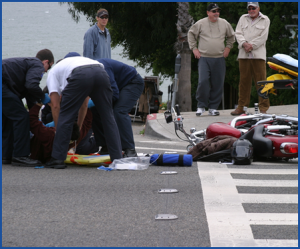 Any motorcycle rider who shares the road with cars and trucks knows the importance of defensive driving. But some motorcycle accidents cannot be avoided, regardless of the care and skill demonstrated by a motorcyclist.
Motorcycle accident statistics show that motorcycle accidents typically account for a disproportionately high number of catastrophic traffic accidents resulting in brain injury, broken bones, paralysis, and wrongful death. Tragically, the vast majority of motorcycle accidents were unavoidable by the motorcycle rider who was injured or killed but could have been easily avoided by the other vehicle driver who caused it.
The personal injury lawyers of HSSH understand the unique aspects of motorcycle accident cases, including:
Texas and Oklahoma vehicle laws pertaining to motorcyclists
Accident reconstruction
Roadway design as it relates to motorcyclists
Motorcycle design and manufacturing issues
In most motorcycle-motor vehicle accidents, a negligent or inattentive automobile driver is at fault. Some of the common types of collisions include:
A driver turning directly in front of a motorcyclist
A driver entering the street from a driveway or parking spot and pulls out into traffic in front of a motorcyclist
A driver's failure to yield at an intersection or running a stop sign or red light
A driver's inattention while driving past a motorcyclist
A driver's failure to look both ways when resuming travel after stopping at a stop sign
A driver impaired by drugs or alcohol
HSSH has experienced motorcycle accident lawyers and would be happy to discuss your claim with you. The consultation is free and if we do not make a recovery on your behalf, you owe us nothing.
Just call 800-753-5359 or 806-376-8903 (Texas office) or 303-333-2200 (Colorado office) or contact us by clicking here. Also, contact us by telephone or click here for a free copy of: "FIVE BIG MISTAKES PEOPLE MAKE AFTER ACCIDENTS" Find out the do's and don'ts if you are involved in a vehicle accident.
Learn what the insurance companies don't want you to know.