Car and Truck Accidents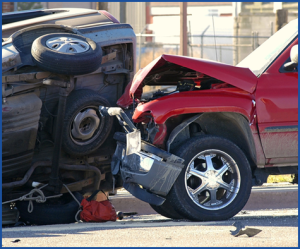 Each year car and truck crashes injure more than 5 million Americans and kill 41,000 others. Not every case requires the services of a lawyer. If the accident is minor, the parties can exchange insurance information, file a police report, and get on with their lives. Many people, including attorneys, regard auto accident litigation as a simple, open and shut type of case. In some situations, that may be true. But in a serious accident where serious personal injury occurs, loss of mobility, loss of income, medical expenses, rehabilitation, and mental suffering can follow, victims are entitled to money to cover their losses. But they're also possibly entitled to compensatory damages and, in extreme cases, punitive damages if the accident was caused by someone else's recklessness. For these serious injury and death claims, it is important to seek legal advice.
Insurance companies want you to settle your case as soon as possible, but you may not be finished with medical care and rehabilitation. Therefore, you should never agree to settle until you have completed your care and have a complete understanding of what your damages will be. For instance, you may also be entitled to lost wages from the defendant's insurance company due to your injuries. Your employer or human resources department must document your lost wages, and a doctor must be able to state that you couldn't work as a result of the accident.
After an accident, it's important to notify your insurance company, irrespective of fault. The company may want to retain a lawyer for itself and participate in the settlement and litigation of any claims made against you by third parties.
In order to recover for personal injuries suffered in a car accident, you have to be able to prove several things. First, you must prove that the driver who caused the accident acted negligently. Proving negligence basically means proving that the other driver acted irresponsibly. Distracted driving (e.g. texting while driving), drunk driving, speeding, driving an unsafe vehicle, running red lights, and reckless driving are all examples of irresponsible behavior that establish negligence.Keep in mind that the driver who caused the accident doesn't have to prove anything. You have the "burden of proof," so unless you have some proof of what you claim, you cannot recover. While your word about what happened and how you were damaged is some proof, it is very important to supplement this testimony with other evidence.
We want to give you an overview of what will be involved in pursuing a car accident claim. We think it is very important that you have some idea of the process before you make a decision about whether to hire a lawyer and if you decide to hire a lawyer, which one to hire. Simply picking up the phone and calling the first 800 number with a caption that says, "Have You Been Injured? Call Now!" or "Get the Money You Deserve!" is not, in our opinion, the best way to make an informed decision about who to hire. Instead, contact us at 800-753-5359 or 806-376-8903 (Texas office) or 303-333-2200 (Colorado office) or click the link below to request a copy of: "FIVE BIG MISTAKES PEOPLE MAKE AFTER ACCIDENTS" ind out the do's and don'ts if you are involved in a car or truck accident. Learn what the insurance companies don't want you to know.
While we address the subject of hiring a lawyer in this Guide, we also encourage you to ask for a copy of "Ten Questions to Ask Before you Hire a Lawyer" to get a more complete discussion of how to make an informed decision about which lawyer is right for you.
HSSH has successfully handled hundreds of serious auto accidents. If you or a loved one was in a auto accident which resulted in serious injury or wrongful death and would like to discuss your case with one of our auto accident lawyers, please call us at 800-753-5359 or contact us. The consultation is free and if we do not make a recovery on your behalf, you owe us nothing.